American Aerospace Makes Critical Airborne-Gathered Data Available to Key Agencies, Public
"Data collected by airborne systems can rapidly provide critical information"
User Webinar Tuesday (9/26) Will Offer Guide to Flyover's Findings
SUGARLOAF KEY, FL and CONSHOHOCKEN, PA, September 20, 2017 — Sophisticated aerial mapping uncovered property damage in the Florida Keys that may have been caused by tornados spawned by Hurricane Irma. The National Weather Services' Storm Prediction Center issued a Tornado Watch for the Florida Keys and several tornado warnings were issued by the Key West National Weather Service Office, but so far there have been no official declarations of tornado touchdowns in the Keys. State-wide nearly 12 tornados have been confirmed.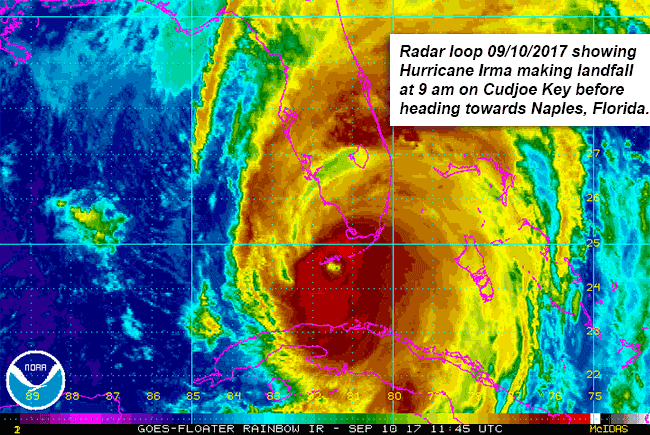 The data was gathered by American Aerospace Technologies Inc., the Pennsylvania-based technology company and leader in airborne data systems, using a piloted small aircraft with the company's InstiMaps™ mapping and sensor payload over a 100-mile stretch of the Florida Keys.  The data was gathered last Thursday and Friday and posted online for public safety and first responder organizations as well as the general public before evacuees were permitted to return to the area.
The interactive maps contain a wealth of data showing comparative information over different time windows that can be of great value to the public and government agencies in the wake of a storm like Irma, said Jim Eberwine, former National Weather Service/NOAA meteorologist and now a New Jersey-based emergency management coordinator. "While I was examining the data, I received a call from someone who was looking for information about his home in Key West. I checked the InstiMaps online maps and it had captured his house, which looked unscathed!"
David Yoel, CEO and founder of American Aerospace, said: "InstiMaps shows how data collected by airborne systems can rapidly provide critical information to first responders and private property owners before they can physically and safely perform personal, onsite surveys of damage."
InstiMaps™ is an airborne, cloud-connected imagery and data capture and communication system that can enhance law enforcement and other public safety agencies' abilities to monitor large-scale events and speed inter-agency communication and response times.  A suite of sensor and data communications systems, InstiMaps can rapidly deliver base imagery and critical updates to browser-enabled mobile and command center devices via a common, secure downloadable application.
A Cessna aircraft similar to that flown by AATI with the InstiMaps payload attached.
The flight involved a manned, fixed-wing aircraft equipped with American Aerospace's InstiMaps imaging, mapping and sensing equipment. It was the second time that an InstiMaps payload has been deployed after an actual disaster. The company also deployed InstiMaps on an unmanned aircraft in a first of its kind hurricane response exercise in Cape May County, N.J. in June.
"Once again, we have learned a tremendous amount about the value of InstiMaps and the process of deploying on emergencies, this time on a large-scale natural disaster," said Yoel.
In total, the flyover captured approximately 100 miles of overhead imagery from 2,000 feet from Key Largo to Key West at approximately 3-inch resolution. The sorties were designed to capture imagery for a critical infrastructure company and also delivered oblique(angled) imagery of the company's infrastructure, in addition to the overhead views.  Further technical detail of information provided to first responder, public safety and critical infrastructure companies in South Florida is below.  It also is open for general public viewing for the next week.
Guide to View the Information
When you open the Web Map, you'll see an icon at the upper right. Scroll your mouse over the icon and a menu will drop down with 4 options: Base Maps, Markers, Linear Imagery and Flight Paths. Clicking on each opens various options. Under Base Maps, for example, you have 4 choices for the map background in which to view the imagery: Streets, Imagery, Topo and Max Zoom. 
Clicking on Linear Imagery reveals the 8 "layers" of imagery acquired: two on September 14th, 3 on September 15th. Click in the box next to any or all of the layers to display the imagery. Use your mouse to zoom in and out. When you zoom it will take a few moments for the imagery to flow to your computer from the cloud – especially at full resolution. The exact amount of time will depend on the speed of your internet link and the number of users. Note that the Max Zoom option under Base Maps enables zooming in to view the full resolution of the imagery.
The situational map at the bottom right provides the context of the Web Map. The small arrow at its bottom right can be used to open and close the context map.
The icons at the upper left can be used to zoom in and out, mark points of interest (and label them), and to make distance and area measurements. Note that any markers saved will be shared with all Web Map users.  Below is a visual guide to the InstiMaps Web Map:
To learn more about InstiMaps, go to: http://americanaerospace.com/details/instimaps
NOTE TO PUBLIC SAFETY, FIRST RESPONDER ORGANIZATIONS. PRIVATE INFRASTRUCTURE OPERATORS AND INTERESTED NEWS MEDIA: A webinar on InstiMaps value and functionality will be held Tuesday, September 26, at 2 p.m. EST, hosted by David Yoel, CEO and founder of American Aerospace.  Interested parties may register at:  contact@americanaerospace.com
About American Aerospace
Founded in 2002 and headquartered in Conshohocken PA, American Aerospace is a pioneer in the growing field of airborne enterprise systems. The company offers advanced sensors and analytics that operate on manned and unmanned aircraft and small electric drones to deliver near real-time inspection, patrol and mapping services as well as airborne wireless services. To learn more about American Aerospace, visit http://americanaerospace.com  or follow the company on Facebook https://www.facebook.com/AmericanAeroInc/ .
####
FOR IMMEDIATE RELEASE
Media contact: Tom Pica thomspica@gmail.com 914-772-0757
#firstresponders #hurricaneirma #conshohocken #irma #technology #emergencyresponse #tornado #instimaps #weather #hurricane